This article first appeared in Japanese on JBpress on April 10. You can read it here.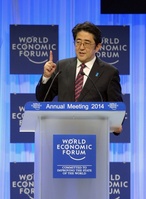 Among the various 'Abenomics' reforms aimed at revitalizing the Japanese economy, encouraging greater female participation in the work force has been one of Prime Minister Shinzo Abe's most lauded policies. However, one of his stated goals, having one female director in every listed company by 2020, is problematic. In less than six years Japanese firms will have to create thousands of directors from a tiny pool of female managers, distorting the labor market and putting 'empty suits' in important positions. Corporate communications expert Takashi Kotani explains.
She is a senior manager in name only. All day long she is engrossed in reading, and aside from an occasional stamp of approval on papers thrust before her, nobody has seen her do anything remotely like work, and at the stroke of 5:30 she makes a bee-line for the door.
One day that female manager quietly packed up her things and left. We smiled, glad to see that someone had finally noticed her. But the next morning we were at a loss for words when we found her name in the newspaper's appointments section. That deadweight female manager had been made a director at a company listed on the prestigious 1st Section of the Tokyo Stock Exchange...
In five years stories like this could become quite common.
The kind of woman headhunters are targeting
Before a window looking out over Tokyo, Ms. O, 49, animatedly directs her subordinates at a foreign-owned consulting firm. After graduating from a university in the United States she joined a trading company, afterwards moving to a manufacturer and working as a section chief in PR, then a department manager in advertising, before being scouted by her current employer two years ago. As a general manager she oversees a staff of 20 in PR and advertising. She makes about 15 million yen (approx. 150,000 dollars) per year, which is plenty for an unmarried woman living with her three cats. She has no complaints about her job.
Over the past six months Ms. O has received a succession of offers from headhunters. But what surprised her wasn't the number of offers so much as the dramatic change in their content: most of them are offers of directorships.
"I can't say I mind the flattery," Ms. O laughs. "Although they are a reminder that I'm now old enough to be considered for that kind of position."
But the truth is that she isn't receiving these offers just because she has reached a certain age. There is a boom underway in the headhunting market, where headhunters are actively seeking women like Ms. O: females around 50 with experience as department manager or higher.
Logistical problems with having one female director for each listed company by 2020
This quiet boom in the headhunting market stems from one of the "Three arrows" outlined by the Abe administration. Positing that women's participation is essential for economic growth in Japan, the administration outlined policies for eliminating the problem of mothers who can't work due to the inability to find availability at child care facilities, providing support for women returning to jobs/reentering the workforce, and increasing the number of female directors and managers.
They have also set a specific milestone of having women comprise 30 percent of managers in all business sectors by 2020, and have imposed a goal of having at least one female director on the boards of listed companies.
The problem is that there are currently about 3,600 listed companies in Japan. At present, only around 500 of those companies have female directors (including executive officers and outside directors). In less than six years about 3,000 companies worth of female directors, more than 3,000 women, need to be found.
Even if they want to elevate female directors from in-house, most companies haven't conducted the training and rotation through departments necessary to create them, making it impossible to produce enough by 2020. This leaves bringing in directors from outside as the only choice, but if they bring in under-qualified women it certainly won't sit well with male employees who get passed over.
Inevitably, the first to be scouted as candidates for directorships are women who are already directors. It is hard to find fault with women who have already displayed their mettle at other companies. Moreover, beneath the surface competition for female directors is already beginning.
Recruiting women as 'director candidates'
Because there is a limited number of experienced female directors, headhunters will move on to recruiting women as 'director candidates.' There are two strategies for recruiting these women.
First, for a woman with a high probability of being made a director at her current company due to her high qualifications, the headhunter will wait for her to be made a director and then give her the opportunity to be a director at a different company.
The other is finding a woman who is frustrated because she isn't being promoted to a directorship despite being qualified, and trying to make her a director at another company. In other words, looking for women with qualifications like Ms. O, but who are in an environment where they can't work to their full potential.
Women coming in from outside the company and suddenly being made directors can meet with internal opposition. In response, a method has been devised where the woman can be hired at the department manager level or higher with the understanding that she will be promoted to executive level after gaining a bit of experience.
However, in the latter case not having experience as a director can be a big hurdle to acceptance both within and outside the company. For instance, in terms of education being a graduate of a foreign university and having an MBA are desirable. This prevents status issues arising from comparing universities (in Japan, it would be difficult to justify the promotion of a woman with a lower ranked alma mater over men from higher ranked schools, but foreign universities are not ranked in Japan).
It is also easier to gain acceptance by being an expert in some field. Headhunters are focusing on finding women in fields where men and women are comparatively equal, such as PR, advertising, IR, human resources and law.
Despite these challenges, it seems that many in top management don't yet feel the urgency of the '2020 problem.' At present, headhunters are trying to get the above messages through and create a sense of crisis among executives.
Late-comers to get the dregs?
It is true that in stressing this issue the Abe administration is trying to garner more support among female voters for the next election. Inevitably, criticism of listed companies that lack a director will grow and fierce competition for those directors will ensue.
The cost is higher than expected: Ms. O says that she received an offer with a salary of 18 million yen (approx. 180,000 dollars). But for a woman who can offer what she can it would be money well spent.
The women who are directors or one step away from the post tend to be strong, having competed with men on equal terms to get to where they are, and are highly capable—they are not in their positions for show. The companies who bring them in are in no way misallocating their director slots. Most of the women who enter these positions over the next year or two will be of the same high caliber.
With that said, it is doubtful that 3,000 women as skilled as Ms. O can be secured in just six years. If companies dawdle the current directors and director candidates will be snatched up by others, and they will be left paying top dollar for deadweight managers.
The author works in corporate communications while pursuing composing and literary pursuits.